This page contains answers to typical questions customers ask about preparing files for output and the methods of delivery of files to our studio. Also found here are links we found to be informative.
We want your first and every experience with us to be successful and pleasant, and one that is without extra charges, reprints or errors. We would like to help you in every way we can to work with us to project the image you desire. Please visit our PRODUCTS page for information on the possibilities and variety of signage.
FILE TYPES | FILE SIZES | LINKS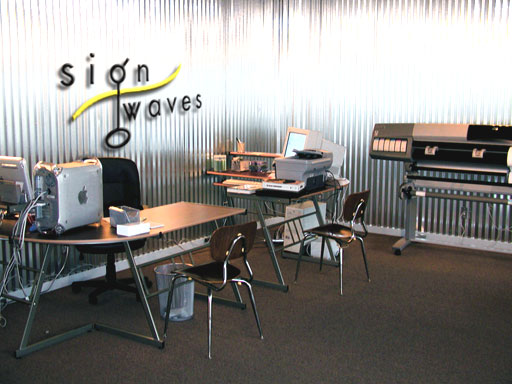 FILE TYPES
PRINT FILES: We accept most graphics and page layout file types for Mac or PC. Microsoft Publisher and PowerPoint files are problematic—call first. Please supply us a color proof, if possible.
Output size is determined by the quality you want and the size of the file you supply us. Call for more information. Small JPEG or GIF files are generally for viewing on your monitor and will not print well. Text should be in a vector-based file, and converted to outlines (paths) when possible. When text is printed at large size in a raster-based file, it tends to become "fuzzy".
Files will be printed in CMYK (actually here we use Cyan, Light Cyan, Magenta, Light Magenta, Yellow, and Black). This means that you should convert your RGB file to CMYK, or we will do it for you. There can be major color shifts during this conversion! If you are getting a full-color business card, we may need your file in RGB, please call first.
OUTDOOR SIGNS: Remember that "less is more". Often, the viewer has only a few seconds to read your sign. Think about the viewing distance—does your sign need to be seen from the parking lot or from the far lane on a busy highway. Lighted signs are more expensive; however, they are more eye-catching and they spread your message 24 hours a day.
FINISHING: We have many laminates available to protect your printed pieces. Prints can be mounted to a wide variety of substrates (boards). Edge cap can be used to frame your piece, easel backs can stand it up on a table, grommets will help you hang it.
COMPUTER-CUT VINYL: This process is used for much outdoor signage and banners, vehicle graphics and window displays. Vinyl is available in a wide variety of colors, is durable (typically lasting 5-8 years outdoors), conformable, and can be very cost-effective. Artwork for vinyl must be in vector format. We can vectorize some artwork; call to discuss your project and get pricing.
PRINTING: The first and formost step is to determine the size of your final format graphic. The final resolution must be considered before the image is even scanned or placed. We can enlarge your digital images somewhat, but the amount depends on the image and the final intent.
A good rule is to produce lossless file types (TIFF and not JPEG) at 1.5 times the intended output resolution. Generally, between 10 and 20 Megs for every square foot of final image. Very high resolution images (giclee prints) will require more information. If images have been enlarged using Photoshop's native scaling or Genuine Fractals, please let us know, as this may prevent or limit further scaling. Text, whenever possible, should not be rasterized, but should be preserved in the file as text or as vector outlines.
Large format printing can be a tricky business. If you are not familiar with preparing images for large scale output, it may be best to discuss your options with someone at Signwaves.
Read what the Small Business Administration has to say about signage:
Why use signage?
Signage as optimal advertising
Working with signmakers
Types of signs